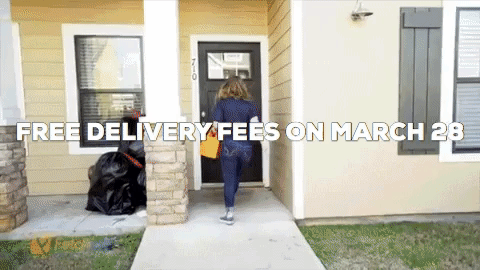 FetchMe Delivery is providing free delivery service fees to each customer on Wednesday, March 28, to celebrate their Customer Appreciation Day.
We know what you're thinking. Isn't it unusual for a food delivery service to offer free delivery fees to their customers? It is definitely not something you hear everyday, as most food delivery services look at their business as a way to charge more money for people who are in need. But this is not the way that we view our business.
At FetchMe, we believe that there are three things that are key to providing excellent service to our customers:
Care passionately, deeply and insanely about our customers.

Treat every customer as though they are the most important people in the world to us and mean it.

Refuse to become one of those companies or businesses that didn't think it was worth the effort to care. Always care.
At FetchMe, we know that we can't take our customer's trust for granted, because we know it matters who delivers your food. FetchMe strives to create pleasant, memorable moments for our customers who know and trust their Fetchers will not only get the order right, but also deliver it on time (or sooner) with a smile on their face. Most importantly, our customers know that even on their bad days they can trust FetchMe to make it better in our small way.
We routinely ask our customers to weigh in on how FetchMe affects them and why they keep coming back. The results speak for themselves:
"I will definitely use this service over tigertown2go. I had no idea how this worked but the guy who called me (forgot his name) was extremely nice and helpful. I also really appreciated him understanding how hungry I was and stressed. Thank you so much for feeding me on my (almost) birthday! I love this service and will continue to support it." -Brittany

"You guys are freaking AWESOME! Always best, fast, and courteous! Thank you for your service!" -Faith

"They humored my difficult order and delivered 30 minutes earlier than the ETA I gave them. They even followed my exact directions for delivery in my office building (which is REALLY strict) which is better than other delivery services have done in the past. And there isn't a minimum order dollar amount like the other ones too  Great place!" -Shawnee

"Affordable and communication is great! Drivers are professional and friendly! 10/10 Already recommended to several friends and coworkers." -Laurel

"Awesome service. Reasonable fees. I had a small problem with the app. Called and the gentleman who answered was helpful in getting my order placed and now the app issue is fixed too. He even personally delivered the order! Wow! Definitely recommend using this service and supporting our Auburn students be entrpreneurs! Keep it up. I will definitely order again." -Jana
By providing free delivery service fees on Customer Appreciation Day, FetchMe is showing our appreciation for being FetchMe regular customers and their support of the FetchMe mission. Without our customers, FetchMe Delivery would not be where we are today.